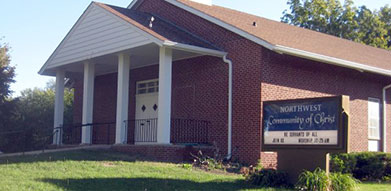 Northwest Congregation, Community of Christ

3003 62nd St.
Des Moines, IA 50322
USA
[email protected]
(515) 276-5680
Sunday Service Hours:
Church Class – 9:30 AM
          Worship – 10:30 AM
Leadership
Welcome
We are an inclusive congregation welcoming persons of all ages, genders, abilities, orientations, attention spans and interests. Each one enriches our fellowship in unique ways. We are blessed by the diversity. All are welcome here.
Are you seeking a spiritual home?
Community of Christ is the welcoming, loving faith community that values the worth of every person as a child of God. We provide a safe space for you to explore and deepen your relationship with Jesus Christ and each other. Come discover renewed purpose for your life through compassionate, Christ-like service that ends suffering and fosters justice and peace.
Change your life; change your community; change the world!
Our Ministries
Worship Service with children's activity area
Sunday School for all ages
Bible study
Children's Christmas program
Monthly fellowship activities
Wednesday night activities for high school students
Advent soup suppers
Summer camps for youth and families
Vacation Bible School
JOPPA Food delivery
COVID-19: In-person gatherings have been suspended during the pandemic. Please check with Pastors regarding local online ministries. When safe, we will resume meetings and our regular schedule.
Sundays
9:00 a.m.—Sunday School Gathering Sing-a-long
9:00 a.m.—Java and Jesus
9:15 a.m.—Sunday School
10:00 a.m.—Fellowship
10:30 a.m.—Worship Service
Mondays
4:00 p.m. to 6:00 p.m. DMARC Mobile Food Pantry (1st and 3rd Mondays each month)6:00 p.m.—Bible Study at Illahee Hills Retirement Community
Wednesdays
6:00 p.m.—High School Wild Wednesdays
Thursdays
12:00 p.m. to 2:00 p.m.—Crafters Gathering at Crowley's Home